In Automotive Industry Application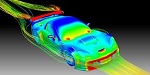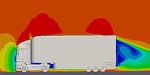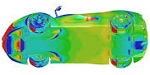 CFD analysis for aerodynamics in automotive industry is used to lower vehicle drag coefficient (Cd) to achieve high fuel efficiency with high mpg (mile per galon) or high km/l (kilometer per liter). Analysis is also used to maximize vehicle down force by lowering lift coefficient (Cl) and balancing front and rear tire lift for vehicle stability.
To lower the drag, vehicle shape should be favorable to flow fields. Visualisation from CFD result gives guidance for vehicle shape modification to improve the drag coefficient. CFD analysis helps to develop and optimize aero parts such as front and rear tire spoilers, underbody shields, air deflectors, deck spoiler, air curtains, etc. Analysis can show interactions of aero parts with other part of the vehicle.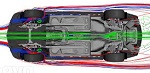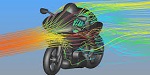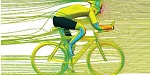 Analysis shows where and what component produces drag and lets the engineers know how to improve the vehicle design. Recently, optimization of several parameters to minimize drag is commonly used. Parameters include greenhouse height, tumblehome, windshield angle, backlight angle, deck length, deck height, hood angle, front corner details, rear corner details, etc.
In Aerospace Industry Application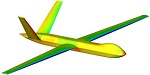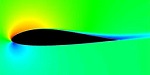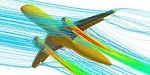 CFD analysis for aerodynamics in aerospace industry is used to maximize the ratio of wing lift coefficient (Cl) to drag coefficient (Cd) for maximum wing payload. Analysis is used to balance forces which are aerodynamic forces, weight and engine force to achieve the aircraft stability and controllability. Condition of aircraft during landing is also of the interest. Analysis is performed to achieve high lift during aircraft low speed by extending parts of the wing.

In Train Industry Application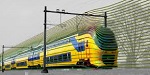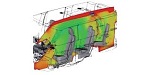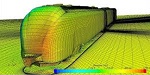 CFD analysis for aerodynamics in train industry is used similarly as in the automotive industry. It is commonly used for lowering train drag coefficient (Cd), cabin air circulations, A/C ducting flow, etc. Recently, the need for analysis is increasingly important in the train industry due to the increase of operating speed of the train.