CFD analysis is used in construction development for climate control optimization, heat management, wind friendly design, plumbing system, etc. Analysis provides information on how air is circulating in rooms, heat entering rooms and it predicts room temperature everywhere in the building. It simulates solar heat radiation to the building and helps to optimize wall insulations. Analysis calculates wind pressure on walls which helps for improving building integrity. CFD analysis is essensial for developing energy efficient buildings.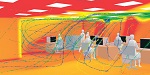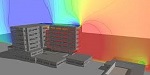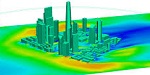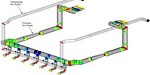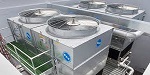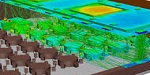 HVAC (heating, ventilating, and air conditioning) is the technology of indoor and vehicular environmental comfort. Its goal is to provide thermal comfort and acceptable indoor air quality. CFD analysis is used to make sure that HVAC system is working properly and giving fresh air evenly in all rooms.
Wind engineering analyzes effects of wind in the built environment and studies the possible damage, inconvenience or benefits which may result from wind. In the field of structural engineering it includes strong winds, which may cause discomfort, as well as extreme winds, such as in a tornado, hurricane or heavy storm, which may cause widespread destruction. CFD analysis is one of the tools for wind engineering.
A cooling tower is a heat rejection device which extracts waste heat to the atmosphere through the cooling of a water stream to a lower temperature. Cooling towers may either use the evaporation of water to remove process heat and cool the working fluid to near the wet-bulb air temperature or, in the case of closed circuit dry cooling towers, rely solely on air to cool the working fluid to near the dry-bulb air temperature. Common applications include cooling the circulating water used in oil refineries, petrochemical and other chemical plants, thermal power stations and HVAC systems for cooling buildings. CFD analysis is used to optimize cooling process in the cooling tower.
---
Copyright © 2013 Center for Computational Fluid Dynamics