Aerodynamics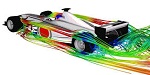 CFD analysis for aerodynamics is widely used in industrial applications such as Aerospace and Automotive industries. In product development, CFD technology provides detailed information to improve the product and achieve design targets such as low vehicle drag coefficient (Cd), high lift to drag coefficient (Cl/Cd) ratio for aeroplanes, low and uniform lift coefficient (Cl) for ground vehicles, etc. CFD analysis gives a visual way on how the air flows around the vehicles resulting in understanding on how to accomplish efficient vehicles. CFD Aerodynamics analysis is essential in designing fuel efficient vehicles.
Heat Transfer Analysis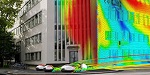 Over heating is common problem in industries. CFD analysis provides information on how heat transfer occurs in the system which leads to understanding in how to protect sensitive components from heat. CFD can simulate heat transfer through three major means which are conduction, convection and radiation. Analysis helps to avoid over heating and to improve heat management in the system.
Heat transfer analysis is used in many industrial applications. Examples includes electrical component cooling, climate control in construction and building, heat management in industrial processes, component cooling in oil and gas industry, heat protection in automotive industry, etc.
Noise Analysis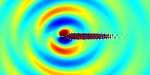 CFD analysis can simulate noise generation from wind rush or periodical fluid vortex and simulate wave propagation in the fluid. Analysis can provide information on where the source of noise and how the noise propages. Modifications of design and what-if scenario can be evaluated and noise level at hearing locations can be predicted. Examples include windrush noise and wind buffeting in automotive designs, noise suppression, noise from explosions, sound amplifications, landing gear noise, etc.
Industrial Process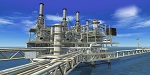 CFD simulations for process industrial applications can be used to evaluate equipment design, process development and optimisation, diagnostic and troubleshooting, retrofit evaluation and what-if scenarios involving fluid flows. Examples include designs of pumps, heat exchangers, flow distributors, inlets and outlets strategy and mixing equipments.
CFD technology has paved the way to look at the current industrial process practise in a more detailed and visual way and thus results in improved understanding and hence help accomplish more efficient and effective process design and equipments.
Green Energy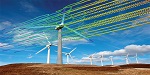 Green energy power generator is environmentally friendly, developed in the way not to disturb our environment and conserves natural resources. Examples of green energy power generator involves with wind and water turbines, photovoltaics, ocean wave power, tidal energy, etc. CFD is used to develop and optimize green energy power generator by providing informations on how the fluid flows in the system, how the heat transfers, improve wind blade shapes, optimize turbine designs. CFD analysis is essensial in developing efficient power generators.
Oil and Gas Industry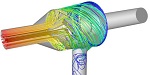 For Oil and Gas industrial applications, CFD is a very useful and practical analysis tool that can give significant benefits in areas such as equipment design, oil and gas refinery process and optimisation, offshore oil rigs/platform design, and fire risk and safety case. Examples include design of efficient drill bits for oil drilling/exploration, oil and gas separator design, optimisation of packed bed reactors, hydrocyclones design for solid separator, wind loadings on offshore oil platform,and fire dispersion and mitigation strategy.
Construction Industry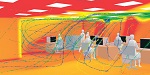 CFD analysis is used in construction development for climate control optimization, heat management, wind friendly design, plumbing system, etc. Analysis provides information on how air is circulating in rooms, heat entering rooms and it predicts room temperature everywhere in the building. It simulates solar heat radiation to the building and helps to optimize wall insulations. Analysis calculates wind pressure on walls which helps for improving building integrity. CFD analysis is essensial for developing energy efficient buildings.
Electronic Industry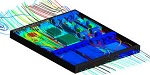 CFD can play a significant role specifically in areas of electronics cooling and thermal optimisation of electronic devices. CFD can help find thermal hotspots, which can have detrimental effect to the overall system performance. Applications of CFD include positioning fans inside electronic boxes, optimisation of heat sinks, testing new motherboards and electronic components and their impact to overall thermal performance.
Marine Industry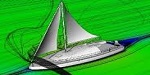 CFD analysis can optimize ship hull design, sail shape and propeller blades. Analysis predicts water free surface around the ship hull which helps to accomplish optimal hull shape with low hydrodynamic drag. CFD provides information to optimize sail shape and location for efficient and stable ship. CFD analysis can optimize propeller blade design for energy efficient ship and avoid cavitation on the blades.
Automotive Industry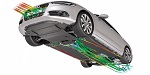 CFD analysis is used in automotive industry for aerodynamics, heat management, climate control and wind noise. Analysis helps to lower vehicle drag coefficient (Cd) and improve lift (Cl) distribution. CFD predicts airflow to radiator for sufficient engine cooling, calculates heat rejection from brake disk, optimizes water jacket cooling in engine block, shows thermal distribution in engine and exhaust system area for component thermal protection. Analysis predict flow distribution on AC outlets and how airflow circulates in the cabin. CFD analysis simulates windrush noise around cabin and window buffeting noise.
Aerospace Industry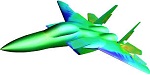 CFD simulates airflow fields around airplanes, helicopters, rockets and spacecrafts. CFD analysis can optimize aircraft design, wing shape and wing profile for efficient and stable airplanes. It can also predict wind noise due to landing gear during airplane take-off and landing. Analysis is also used in aircraft engine design for compressor and turbine blades optimization. CFD helps in helicopter design mainly for its rotor optimal shape. Analysis provides information on rocket aerodynamics for its stability and control. Indeed, CFD analysis is originally from aerospace industry and very essensial for developing efficient aircrafts.
Other Industries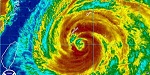 CFD analysis is used in other purposes, such as earth weather predictions and high-speed train design. CFD is commonly used to predict weather system, especially during disasterous events due to tornado or hurricane. It can predict strength evolution of tornado or hurricane in near future and their paths. Also, CFD analysis is used during high-speed train development for aerodynamics, heat management and climate control.