CFD simulates airflow fields around airplanes, helicopters, rockets and spacecrafts. CFD analysis can optimize aircraft design, wing shape and wing profile for efficient and stable airplanes. It can also predict wind noise due to landing gear during airplane take-off and landing. Analysis is also used in aircraft engine design for compressor and turbine blades optimization. CFD helps in helicopter design mainly for its rotor optimal shape. Analysis provides information on rocket aerodynamics for its stability and control. Indeed, CFD analysis is originally from aerospace industry and very essensial for developing efficient aircrafts.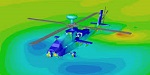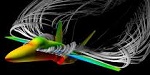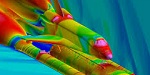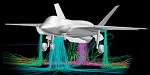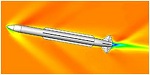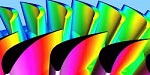 Transverse flow effect is an aerodynamic effect encountered when a helicopter moves forward through the air. In a hover, the air above the rotor disk is being pulled down from above and is equally distributed around the rotor disk. The air is descending from above, which has the effect of reducing angle of attack. CFD analysis can be used to optimize helicopter blades to provide efficient air flow.
Aerospace engineers develop control systems for a vehicle's orientation about its center of mass. The control systems include actuators, which exert forces in various directions, and generate rotational forces or moments about the aerodynamic center of the aircraft, and thus rotate the aircraft in pitch, roll, or yaw. For example, a pitching moment is a vertical force applied at a distance forward or aft from the aerodynamic center of the aircraft, causing the aircraft to pitch up or down. CFD analysis helps aerospace engineers to develop aircraft design with stability and controllability.
A cruise missile is a guided missile, the major portion of whose flight path to its target is conducted at approximately constant velocity; that relies on the dynamic reaction of air for lift, and upon propulsion forces to balance drag. Modern cruise missiles can travel at supersonic or high subsonic speeds, are self-navigating, and can fly on a non-ballistic, extremely low altitude trajectory. CFD analysis can be used to optimize missile aerodynamic with good stability and controllability.
A turbojet engine is a gas turbine engine that works by compressing air with an inlet and a compressor, mixing fuel with the compressed air, burning the mixture in the combustor, and then passing the hot, high pressure air through a turbine and a nozzle. The engine converts internal energy in the fuel to kinetic energy in the exhaust, producing thrust. CFD is used to analyze airflow at compressor, burner and turbine.
---
Copyright © 2013 Center for Computational Fluid Dynamics