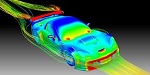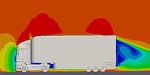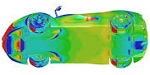 CFD analysis for aerodynamics in automotive industry is used to lower vehicle drag coefficient (Cd) to achieve high fuel efficiency with high mpg (mile per galon) or high km/l (kilometer per liter). Analysis is also used to maximize vehicle down force by lowering lift coefficient (Cl) and balancing front and rear tire lift for vehicle stability.
To lower the drag, vehicle shape should be favorable to flow fields. Visualisation from CFD result gives guidance for vehicle shape modification to improve the drag coefficient. CFD analysis helps to develop and optimize aero parts such as front and rear tire spoilers, underbody shields, air deflectors, deck spoiler, air curtains, etc. Analysis can show interactions of aero parts with other part of the vehicle.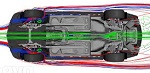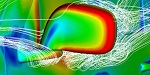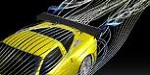 Analysis shows where and what component produces drag and lets the engineers know how to improve the vehicle design. Recently, optimization of several parameters to minimize drag is commonly used. Parameters include greenhouse height, tumblehome, windshield angle, backlight angle, deck length, deck height, hood angle, front corner details, rear corner details, etc.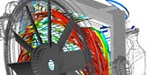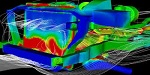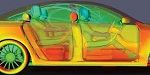 CFD for heat transfer analysis in automotive industry is used to examine engine cooling system, water cooling jacket around engine block, heat rejection at radiator, condenser, charger air cooler, and any other heat exchanger. Climate control study at heater and A/C system and air flow circulation inside cabin.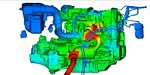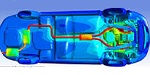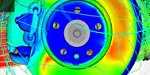 CFD simulations can calculate heat transfer from conduction, convection and radiation. Simulation is used to help positioning sensitive components, such as electronic sensors, rubber seals, from exhaust system heat radiation and convection. Study of cooling process on brake disk.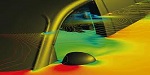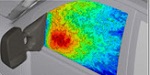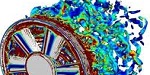 CFD for noise analysis in automotive industry is used for window buffeting and windrush noise. Window buffeting happens in a car when only one window or sunroof is opened and the vehicle runs in a low speed, such as 30 mph. The noise is very low frequency, around 14 hz, but its magnitude is very high, such as 125 dB. The effect of this noise is not to what the passengers hear but more to what the passengers feel. CFD analysis can explain the detail fenomena of the buffeting and give insight on how to reduce the noise.

Windrush noise happens on higher vehicle speed and its source is due to flow turbulence caused by large obstacle i.e. mirror or surface details, such as offsets, cutlines, cavities, feature lines, etc. Analysis can show the effected area and its noise intensity giving guidance to engineers on how to lower the noise by improving designs and surface details.

---
Copyright © 2013 Center for Computational Fluid Dynamics