CFD can play a significant role specifically in areas of electronics cooling and thermal optimisation of electronic devices. CFD can help find thermal hotspots, which can have detrimental effect to the overall system performance. Applications of CFD include positioning fans inside electronic boxes, optimisation of heat sinks, testing new motherboards and electronic components and their impact to overall thermal performance.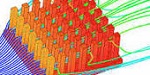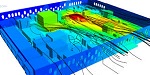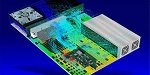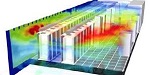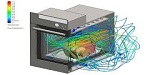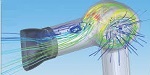 CFD analysis in electronic industry is used to investigate cooling process of IC component with high heat rejection. The aim is to optimize IC cooling process with minimal cooling fan size and with good air cooling circulation inside the electronic casing. Computer system and sound amplifier are examples of electronic applications which have cooling fans.
Simulation is also used to analyse air circulation around a server room where plenty of computers reject heat and the room should have good circulation to let the heat out. The positioning of A/C blower should be optimized to cool the room uniformly.
Electronic appliances such as oven and microwave should have a good air circulation with uniform heating inside the cooking compartment in order to cook the food nicely and evenly. CFD analyse can be used to optimize air flow and heat flow inside the cooking compartment by optimizing fan duct and outlets. Hair dryer can also be analyzed to provide strong and straight air flow with uniform temperature on the nozzle outlet.
---
Copyright © 2013 Center for Computational Fluid Dynamics