Over heating is common problem in industries. CFD analysis provides information on how heat transfer occurs in the system which leads to understanding in how to protect sensitive components from heat. CFD can simulate heat transfer through three major means which are conduction, convection and radiation. Analysis helps to avoid over heating and to improve heat management in the system.
Heat transfer analysis is used in many industrial applications. Examples includes automotive industry, electrical component cooling, climate control in construction and building, heat management in industrial processes, component cooling in oil and gas industry, etc.
In Automotive Industry Application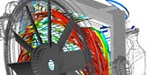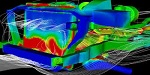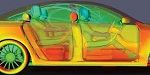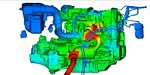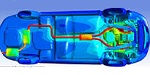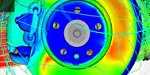 CFD for heat transfer analysis in automotive industry is used to examine engine cooling system, water cooling jacket around engine block, heat rejection at radiator, condenser, charger air cooler, and any other heat exchangers, climate control study at heater and A/C system and air flow circulation inside cabin.
Simulations is also used for heat protection to help positioning sensitive components, such as electronic sensors, rubber seals, from exhaust system heat radiation and convection. CFD can study cooling process on brake disk and to make sure that the disk is cooled properly.
In Other Industry Applications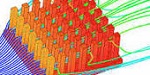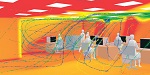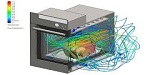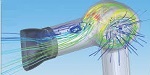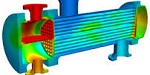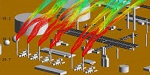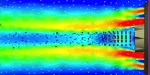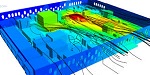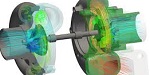 CFD analysis in electronic industry is used to ensure enough cooling process for IC components which reject significant amount of heat. Analysis can optimize cooling fan size and location in the electronic casing and to make sure good air circulation.
Analysis is also used for optimizing A/C system on a building, heat distribution on ovens and hair dryers, heat exchanger in industrial process, hot air plume coming from exhaust towers in fabrication facility, heat flow from engines, flow inside turbo chargers, ect.
---
Copyright © 2013 Center for Computational Fluid Dynamics