CFD analysis can optimize ship hull design, sail shape and propeller blades. Analysis predicts water free surface around the ship hull which helps to accomplish optimal hull shape with low hydrodynamic drag. CFD provides information to optimize sail shape and location for efficient and stable ship. CFD analysis can optimize propeller blade design for energy efficient ship and avoid cavitation on the blades.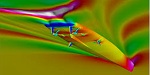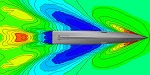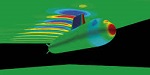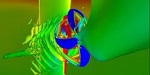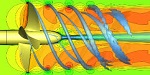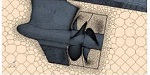 Wave-making resistance is a form of drag that affects surface watercraft, such as boats and ships, and reflects the energy required to push the water out of the way of the hull. This energy goes into creating the wave. For small displacement hulls, such as sailboats or rowboats, wave-making resistance is the major source of the marine vessel drag. CFD analysis is used to lower ship hydrolic drag by optimizing ship body shape.
Modern submarines are usually cigar-shaped. This design, already visible on very early submarines is called a "teardrop hull", and was patterned after the bodies of whales. It significantly reduces the hydrodynamic drag on the sub when submerged, but decreases the sea-keeping capabilities and increases the drag while surfaced. CFD analysis helps to design better submarines hull shape with low hydrodynamic drag.
A propeller is a type of fan that transmits power by converting rotational motion into thrust. A pressure difference is produced between the forward and rear surfaces of the airfoil-shaped blade, and a fluid is accelerated behind the blade. Optimization of propeller blade shape will require CFD analysis.
---
Copyright © 2013 Center for Computational Fluid Dynamics