CFD analysis can simulate noise generation from wind rush or periodical fluid vortex and simulate wave propagation in the fluid. Analysis can provide information on where the source of noise and how the noise propages. Modifications of design and what-if scenario can be evaluated and noise level at hearing locations can be predicted. Examples include windrush noise and wind buffeting in automotive designs, noise suppression, noise from explosions, sound amplifications, landing gear noise, etc.
In Automotive Industry Application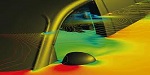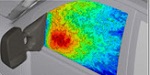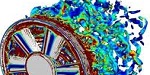 CFD for noise analysis in automotive industry is used for window buffeting and windrush noise. Window buffeting happens in a car when only one window or sunroof is opened and the vehicle runs in a low speed, such as 30 mph. The noise is very low frequency, around 14 hz, but its magnitude is very high, such as 125 dB. The effect of this noise is not to what the passengers hear but more to what the passengers feel. CFD analysis can explain the detail fenomena of the buffeting and give insight on how to reduce the noise.

Windrush noise happens on higher vehicle speed and its source is due to flow turbulence caused by large obstacle i.e. mirror or surface details, such as offsets, cutlines, cavities, feature lines, etc. Analysis can show the effected area and its noise intensity giving guidance to engineers on how to lower the noise by improving designs and surface details. Windrush noise can also come from fan blades and A/C ducting system. Optimization on the design shape of rotor and stator of the fan and the ducts can reduce the noise.

In Other Industry Applications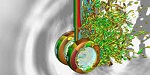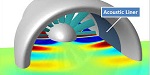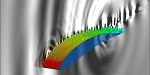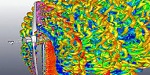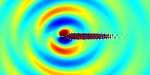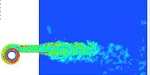 Examples of CFD for noise analysis in other industries are windrush noise due to landing gears, engine noise, noise from wing trailing edge and noise in A/C ducting system for aerospace industry, noise from windmill blade in green energy industry, fan blade noise for industrial process, A/C ducting noise in construction industry, etc.

---
Copyright © 2013 Center for Computational Fluid Dynamics