For Oil and Gas industrial applications, CFD is a very useful and practical analysis tool that can give significant benefits in areas such as equipment design, oil and gas refinery process and optimisation, offshore oil rigs/platform design, and fire risk and safety case. Examples include design of efficient drill bits for oil drilling/exploration, oil and gas separator design, optimisation of packed bed reactors, hydrocyclones design for solid separator, wind loadings on offshore oil platform,and fire dispersion and mitigation strategy.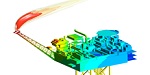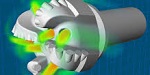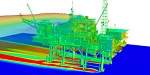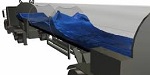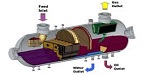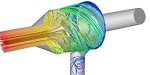 Offshore drilling refers to a mechanical process where a wellbore is drilled through the seabed. It is typically carried out in order to explore for and subsequently extract petroleum which lies in rock formations beneath the seabed. Analysis using CFD can be used to make sure that the offshore rig design is strong against forcefull wind, petroleum flow inside piping system is proper and safe, etc.
In geotechnical engineering, drilling fluid is used to aid the drilling of boreholes into the earth. The main functions of drilling fluids include providing hydrostatic pressure to prevent formation fluids from entering into the well bore, keeping the drill bit cool and clean during drilling, carrying out drill cuttings, and suspending the drill cuttings while drilling is paused and when the drilling assembly is brought in and out of the hole. CFD analysis is used to design drilling bit passages for optimal drilling fluid flow.
In fluid dynamics, slosh refers to the movement of liquid inside another object which is undergoing motion. The liquid should have a free surface to constitute a slosh dynamics problem, where the dynamics of the liquid can interact with the container to alter the system dynamics significantly. Important examples include propellant slosh in spacecraft tanks and rockets, and cargo slosh in ships and trucks transporting liquids. CFD analysis is used to study the impact of sloshing fluid to the container structure to investigate if the fluid force can cause failure to the structure.
Petroleum refining processes are the chemical engineering processes and other facilities used in petroleum refineries to transform crude oil into useful products such as liquefied petroleum gas (LPG), gasoline or petrol, kerosene, jet fuel, diesel oil and fuel oils. CFD analysis can be used to optimize the refinery process.
---
Copyright © 2013 Center for Computational Fluid Dynamics