CFD analysis is used in other purposes, such as earth weather predictions and high-speed train design. CFD is commonly used to predict weather system, especially during disasterous events due to tornado or hurricane. It can predict strength evolution of tornado or hurricane in near future and their paths. Also, CFD analysis is used during high-speed train development for aerodynamics, heat management and climate control.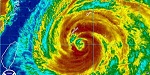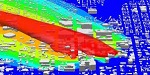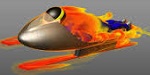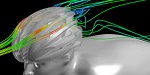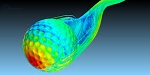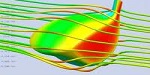 A tornado is a violently rotating column of air that is in contact with both the surface of the earth and a cumulonimbus cloud or, in rare cases, the base of a cumulus cloud. Tornadoes come in many shapes and sizes, but they are typically in the form of a visible condensation funnel, whose narrow end touches the earth and is often encircled by a cloud of debris and dust. The most extreme tornadoes can attain wind speeds of more than 300 miles per hour (483 km/h), stretch more than two miles (3.2 km) across, and stay on the ground for dozens of miles (more than 100 km). CFD analysis is often used to simulate a tornado development, its movement and touch-down path. Analysis is also used in general weather predictions in terms of wind speed, its direction and atmospheric temperature.
Bobsleigh or bobsled is a winter sport in which teams of two or four people make timed runs down narrow, twisting, banked, iced tracks in a gravity-powered sled. The timed runs are combined to calculate the final score. CFD analysis is used for optimizing bobsled shape to reduce aerodynamic drag which will increase its speed.
A bicycle helmet is designed to attenuate impacts to the head of a cyclist in falls while minimizing side effects such as interference with peripheral vision. CFD analysis is used to reduce aerodynamic drag of bicycle helmet which will increase bicycle speed.
---
Copyright © 2013 Center for Computational Fluid Dynamics